Kaltura Capture - Drawing
Video Guide
Kaltura Capture - Screen Recording and Drawing (YouTube, 4m 56s)
For additional information, refer to the Screen Recording or Presentations & Lectures guide.
Displaying the Drawing Tool Panel
Kaltura Capture allows you to draw on your screen while in a screen recording mode only.
Tip: It is advised that you pause the recording before accessing the drawing function otherwise the recording will capture you selecting the drawing options.
To launch the drawing tool panel:
Click on the pen icon in the recording interface.

Select from the range of options available to begin drawing.
Note: To close the drawing tool panel, click on the pen icon.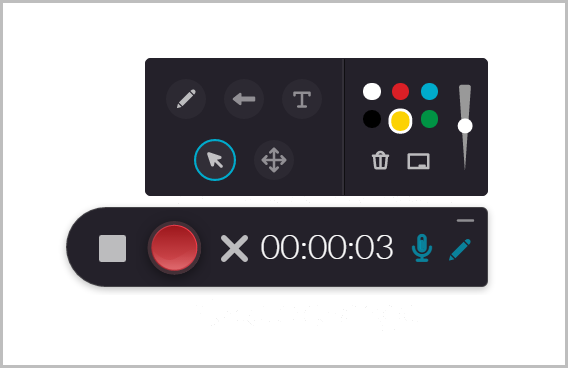 Drawing Tool Panel Functions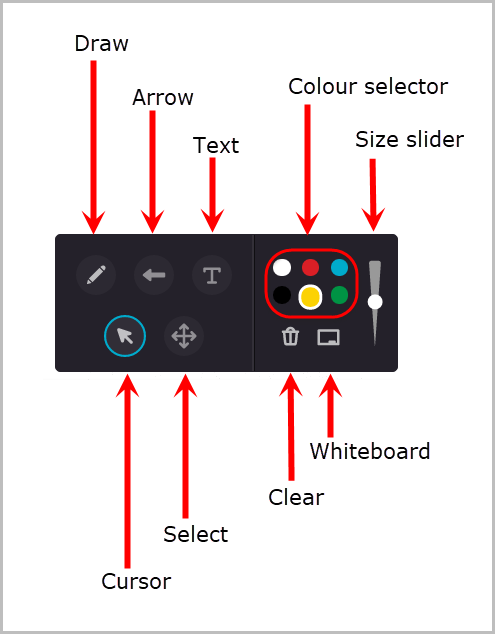 Draw: Allows you to draw or write on the screen. Use the size slider to adjust pen size and colour selector to change colour before you draw.
Arrow: Click and drag on the screen to add an arrow shape.
Text: Click on an area of the screen to type text.
Colour selector: Click a colour to select the colour for the pen, arrow or text before you draw or type.
Size slider: Click and drag the slider dot to increase/decrease the size of the pen, arrow or text before you draw or type.
Cursor: Shows an arrow cursor that is recorded on the screen.
Select: Allows you to click and drag drawings, arrows or text.
Clear: Clears all drawings, arrows and texts from the screen.
Note: Clearing will not delete the drawings from the final product.
Tip: Whilst the recording is paused, clear your drawings before continuing with recording.
Whiteboard: Allows you to open a whiteboard over the desktop recording to draw, create arrows and type text into.