All Learn.UQ (Blackboard) sites are based on the same template to ensure consistency in structure and navigation for students.
Note: Reminder to de-identify course data by not putting student information and assessment answers in guest accessible areas.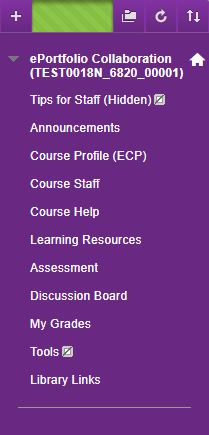 Tips for Staff: Content area that contains tips for staff and a banner creation tool. This link is hidden from the students by default.
Announcements: Announcements for students about course administration, tutorials and assignments. Default first page.
Course Profile: A link is automatically added to the Electronic Course profile.
Course Staff: This content area should include a clear explanation of the communication modes, channels, and practices for the course. This may consist of contact details and consultation times for individual lecturers and tutors, or a more sophisticated system that directs students to the appropriate contact.
Course Help: The Course Help section has been provided so you can direct students to the most effective support mechanisms and inform them about course, School, and Faculty procedures with which they may not be familiar.
Learning Resources: Content area for course presentations, resources (including links to Course Reading List and Subject Guides) and activities.
Assessment: Content area for assessment information, TurnItIn assignment links and Blackboard assignment links.
Discussion Board: The discussion board may be used to allow students to ask question about assessment, for students to discuss course content and for students to submit answers to tutorial questions.
My Library: Links to Student Services on the library website.
My Grades: Students can view the marks entered into the Grade Centre from this link (only their own).
Tools: A link to all the tools available in Learn.UQ (Blackboard). This link is hidden from the students by default.