What's on
eLearning webinars (Zoom)
eLearning workshops (Face-to-face)
View all eLearning workshops and webinars >>
Other events and courses
Communities of Practice
Learning Design Community | 3 February
Ready to Teach Week, 7-10 February 2022
Ready to Teach Week is a program of online and in-person activities designed to help you prepare course materials for the upcoming semester.
Teaching@UQ
The Teaching@UQ program provides academics who are new to UQ with an introduction to the University's teaching and learning culture. The program offers a range of activities where participants:
Discuss assessment, learning and classroom management through learning activities in UQ spaces with UQ systems modelled by teaching experts.

Learn about UQ's teaching approaches, policy and culture.
Receive personal feedback on their teaching and develop networks with colleagues across UQ.
eLearning workshops
The eLearning team are offering a range of practical workshops on eLearning tools during 2022. They are published on the UQ Workday website and are open for registrations.
eLearning Workshops for Tutors
To address professional learning requirements for tutors at UQ, ITaLI eLearning team is running a series of workshops, including Learn.UQ Basics for Tutors, Active learning with Zoom for Tutors, PadletUQ for Tutors, Zoom in the Room for Tutors.
Ed Discussion to facilitate a sense of belonging
Ed Discussion can be used in courses to increase a sense of belonging for students. Interactions amongst staff and students can be enhanced through questions and answers, sharing documents, annotatable images, video and even math equations. Ed can also be used for social posts including memes, gifs and emojis, facilitating an engaging online learning environment.
Register for Ed Discussion workshops >>
Turnitin GradeScope now available
GradeScope facilitates the marking of handwritten assessments such as math, chemistry and physics, but can also be used for marking computer software. GradeScope allows the grouping of similar student responses together for simultaneous marking and feedback, greatly improving the efficiency of the marking process in large courses.

Coordinators can set up GradeScope for either student submission of scanned documents or staff submission. GradeScope is now available for all courses. View the guides or attend a workshop to find out more.
See how Dr Archie Chapman uses RiPPLE to increase student engagement by having students create their own learning resources, share them with their peers, and receive peer feedback and evaluation (YouTube, 3m 11s).
View the Turnitin GradeScope project page >>
RiPPLE
See how Dr Archie Chapman uses RiPPLE to increase student engagement by having students create their own learning resources, share them with their peers, and receive peer feedback and evaluation (YouTube, 3m 11s).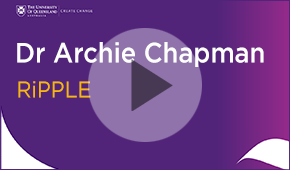 Custom workshops for teaching staff, tutors and professional staff
Custom workshops on centrally supported eLearning tools are available by request for faculties, schools and individual courses. Sessions are delivered via Zoom. Contact elearningadvisors@uq.edu.au with details of the preferred date, time and approximate numbers.
Order your Semester 1, 2022 site(s) now
Learn how to order your Learn.UQ (Blackboard) and edX (Edge) course sites in preparation for Semester 1.
See the Course requests guide >>
Teaching and Learning Week recordings
Many Teaching and Learning Week 2021 (T&L Week) sessions were recorded and are now available to watch online, including:
View all T&L Week recordings >>
UQ ePortfolio system - Semester 2, 2022 
Looking to scaffold progressive reflections either course or program-wide? Interested in staged or interlinked assessment tasks to engage students in using feedback to apply to a later task?  UQ's ePortfolio system enables students to submit videos, images or documents to external or internal assessors and obtain feedback on specific marking criteria.
Teaching and learning support
eLearning support
For technical support with central eLearning tools, email eLearning support.
eLearning advisors
For tailored advice by qualified teachers on using eLearning tools, including how to select and configure learning technologies. Book a Zoom consultation with an eLearning advisor.
Workshops
eLearning advisors are available to deliver custom workshops in your school or faculty. Organise a custom workshop.
Teaching support
ITaLI staff are available to offer pedagogical advice. Please contact itali@uq.edu.au or book a 30-min Zoom consultation.
Learning designers
For faculty/school level support, please refer to the list of learning designers in your area.