Tuesday 27 March
Proposed Learn.UQ upgrade dates  
The proposed dates for the 2018 Blackboard upgrade are Saturday 7 July and Sunday 8 July. Blackboard will be unavailable on those days. These dates fall in the mid-semester vacation period, and are at the end of the Universities Australia common vacation week. Annual upgrades to Blackboard are necessary to maintain license obligations, and apply critical security updates. eLearning Systems and Support are seeking your feedback on this proposed date. 
Lecture Recordings - Decommissioning of Legacy System
Following the successful migration to the new cloud based lecture recording system, the legacy system will be decommissioned in November 2018. If you would like to keep material that was recorded in Semester 2-2017 or earlier, it is important that you download these files before November. To do so, please follow the instructions available on the eLearning web page. If you are using desktop recording (PCAP) you will also need to update your recording software to upload to the cloud system. If your recording was dual screen and you want to keep both screens, please contact help@learn.uq.edu.au.
Active learning with UQpoll, UQwordcloud and UQwordstream
UQ Active Learn is a suite of tools comprised of: UQpoll, UQwordcloud and UQwordstream. These tools can be used to engage students to promote deeper understanding in lectures and tutorials. They allow teaching staff to collect and immediately display student responses to questions. These tools can also be used to check students' understanding of lecture content, identify student misconceptions and facilitate discussions.
Students are able to respond using a web enabled device (PC, Mac, iPhone, iPad, Android device or other smart phones), via their student login. All UQ staff are automatically allocated an Active Learn ID and can access these applications using their UQ staff username and password.
The videos below provide a walkthrough of the features of UQpoll, UQwordcloud and UQwordstream.

UQpoll Quick start guide (3.44 mins)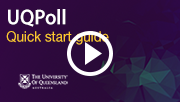 UQwordcloud Quick start guide (4.07 mins)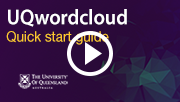 UQwordstream Quick start guide (3.35 mins)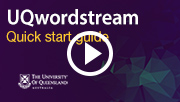 iThenticate - Text matching for research papers
The iThenticate text matching system for researchers is now available to all UQ staff and HDR students. While iThenticate uses underlying technology that is similar to Turnitin, the functionality, user experience and reports are designed to meet the needs of researchers. iThenticate allows you to quickly upload, check and examine documents via a web interface. Researchers can share documents and collaborate in groups. iThenticate includes in-depth analytics to provide visibility of content submissions and levels of originality over time. For step-by-step instructions, refer to the guide on iThenticate.
Flipped|Active|Blended (FAB) Resources 
The ITaLI Flipped| Active| Blended (FAB) toolkit is designed to help you design and deliver flipped, active, blended and interactive classrooms to enhance student engagement.

Assessment
Course Site Design Tips - Assessment 
Reminder, each assessment item in a course should have its own folder in the Assessment area of the course site, and the submission link should be the first item in each folder. We recommend a link to the relevant student instructions also be included under the submission link.
The video below outlines course guidelines around assessment (2.57mins).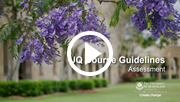 Student Support - Assessment
When new students submit assessment material there are some issues they can encounter due to being unfamiliar with the software. As UQ teaching staff it is important to be aware of the resources and services available to students and refer them correctly when required.
UQ Library provides a range of student guides to help them with Turnitin and Blackboard assignment submission. All guides can be found on the Learn.UQ help website. 
The UQ Library also provides a range of services that can assist students with assessment such as technical support, computer access, research skills and software training.
Should your students encounter technical problems while completing assessment please be sure to direct them to the AskUs service and refer them to the Report Technical Problems with eLearning Systems guide.

Record reasons for mark changes
The Blackboard Grade Centre allows you to add a comment when you change a mark. These comments are then included in the Grade History which you can view at the end of semester to confirm validity and check for errors before tranferring your grades to SI-net. 
The video below provide a walkthrough of how to edit a mark and record a reason (2.22mins).

Online compliance training for staff
Some of the very large staff development courses currently hosted on Blackboard will be migrated to a more suitable platform in 2018. Examples include the OHS courses and finance training courses. The elearning team is currently conducting a market scan and evaluation project to achieve this. The project has identified functional requirements via consultation with course owners and other stakeholders, and the EOI documentation will be published to the Queensland government tender website in the coming weeks. 
Lecture Recording
Most people know that UQ was an early adopter of lecture recording technology. Since 2008 we have progressively deployed a standardised solution to 255 centrally controlled teaching spaces, as well as some venues managed by schools or organisational units. This year the eLearning team has been directed to review market options, with a view to confirming our current solution or selecting an alternative for further investigation. At this point we are inviting up to 3 teaching staff to participate in the working party. Please nominate yourself by contacting the support desk.

eLearning Workshops
The eLearning team are offering a range of practical workshops on eLearning tools during 2018.  For a description of each workshop, dates and to register, visit the Staff Development / Teaching and Learning Technologies site. Upcoming workshops include:
Custom Workshops for Teaching Staff, Tutors and Professional Staff
Custom workshops on centrally supported eLearning tools are available on request for faculties, schools and/or courses. Course coordinators need only book a meeting room and organise attendance, laptops are provided for the sessions. Contact elearningtraining@uq.edu.au with details of the preferred date, time, room booking and approximate numbers. Popular workshop options include:
Turnitin Online Marking for Tutors
Blackboard Group Assignments Online Marking for Tutors
ePortfolio Online Marking for Tutors
UQ Active Learning tools for Tutors
Learn.UQ Grade Centre
ITaLI Workshops
ITaLI Events
Expressions of Interest now open for the Teaching Toolkit Rummage 
Do you use an innovative process, strategy or electronic tool to teach? Perhaps you have a unique way to demonstrate theory in action, a process to put your students into groups, or have successfully used an online tool in a novel situation? Do you have examples of authentic assessment? Cool mechanisms for engaging students in lectures? Strategies for engaging or communicating with industry partners to provide WIL opportunities?
If this sounds like you, ITaLI would love to hear from you. Expressions of Interest to present at the first Teaching Showcase event for 2018 – the Teaching Toolkit Rummage – are now open here. Please note submissions close Tuesday 10 April, 5pm.
UQ Educational Impact Network Series 
Join Dr Smitesh Bakrania (Rowan University, USA) to discuss how you could engineer your teaching with a problem solving design approach, and learn how his classroom discussion app Pikme and other web tools could support you in addressing teaching challenges. Register to attend the event on Friday 27 April, 2-3pm here.
The UQ Educational Impact Network brings together colleagues with an interest in higher education, curriculum development, learning analytics, educational technologies, assessment and students-as-partners. It aims to build capacity across UQ to carry out multidisciplinary initiatives that support teaching and learning strategic priorities, as well as enable UQ to be a world leader in shaping the future of higher education.
Request Support
To receive a quick response on your eLearning technical problem, log a job with the UQ Staff eLearning Helpdesk using help@learn.uq.edu.au. Alternatively you may use the Request Support button available inside Learn.UQ.
To enable a timely response please be sure to include as much information as possible with your request.