Archiving a course creates a permanent record of a course including all the content and user interactions available at the time the archive is created.
Go to the course you would like to archive.
From the Control Panel select Packages and Utilities > Export/Archive Course.
Note: The Export Package option creates a package of course content that can later be imported into another course.
Click on the Archive Course button.
Select the checkbox to Include Grade Centre History if applicable.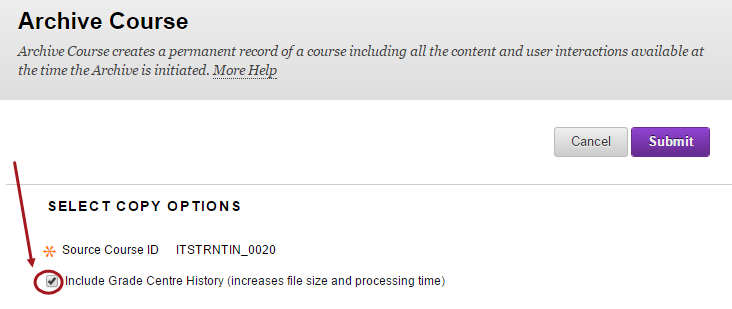 Select Course Files Default Directory options:  

Copy only links to course default directory files.
Copy links and include copies of the files in the course default directory.

Select Package Size options:  

Click on the Calculate Size button to view the package size.
Click on the Manage Package Contents button, if applicable to remove any files.

Click on the Submit button. 

You will receive a confirmation email that an archive has been created. 

Downloading the Course Package
Access the Export/Archive page.
Click on the required Archive file. 

Download the package to your local computer or faculty storage area.
Note: You will not be able to unzip this file and extract content. The only way you can access contents is by uploading the zip file into a Learn.UQ course using the Packages and Utilities > Import Package option.