Retention Centre Overview
The Retention Centre is designed to allow you to monitor student progress and engagement in your course. It is automatically setup to display information on four factors that may put students at risk of not completing a course.
You can flag students you wish to monitor, contact them via email, track correspondence and make notes on their progress using the Retention Centre. You can also edit the default criteria used to monitor student progress and engagement, plus create rules to monitor other aspects of your course. i.e. Identify high achieving students.
From the Control Panel select Evaluation > Retention Centre.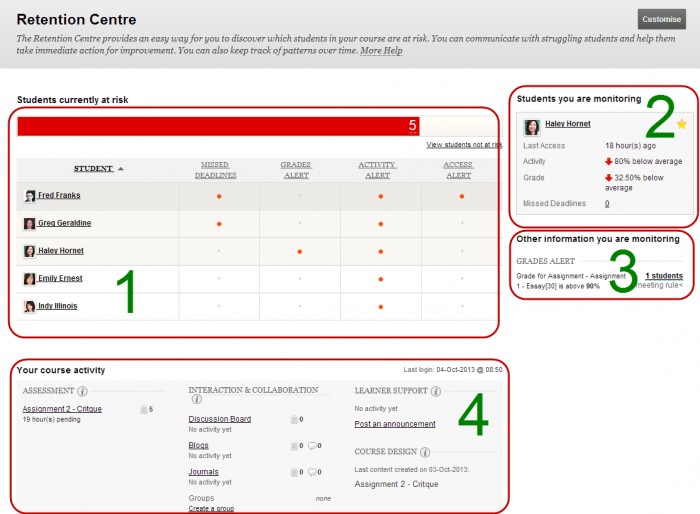 1.   Risk table
Displays students who meet any of four pre-set risk factors (which you can change).
Missed deadlines: Students who have missed any assessment dead during the semester.
Note: TurnItIn assignments will need to have the date entered in Grade Centre to be included. Manually create columns in Grade Centre with due dates can create false alerts. (Refer At Risk table guide)
Grades Alert: Students who have an External Grade 25% below the class average.
Note: This is the column in the Grade Centre with the "green tick" icon and it is not set by default at UQ. i.e. You will need to set External Grade column in Grade Centre for this alert to work. (Refer At Risk table guide)
Activity Alert: Students whose activity in the course is 20% below the course average.  
Access Alert: Students who not accessed the course in the last 5 days.
2.   Monitored students
You can select students to monitor and their activity in the course will be displayed in this panel. (Refer Monitor students guide)
3.   Other information monitor
You create your own criteria for monitoring student engagement and progress in your course. i.e. You could add an alert to monitor high achieving students. (Refer Customising the Retention Centre guide)
4.   Your course activity
This panel gives you an overview of your activity in the course and links to tools for marking assessment and collaboration. (Refer Your course activity guide)